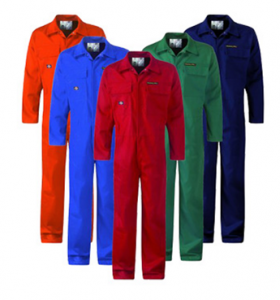 MODEL NO: CTC1950 / CTC2600
A one-piece clothing that has full length sleeves and legs like a jumpsuit, with no gap between jacket & pants. Worn over normal clothes to give additional protection at work.
Our work wear garments made from cotton deliver comfort and confidence for all industries across the globe. These versatile and durable products meet our high standards for superior construction, and are check for fit, wear, comfort. With your ever changing needs as our top concern, each garment is designed to meet a specific task.
Practical design
Quality manufacture
Maximum performance
Comfortable fitting
Double stitching
Customisation available
Choose from 7 available colours (orange, navy blue, white, red, light blue, grey & kaki)
Soft, lightweight and pliable cotton fabric can be comfortable worn directly against the skin
Cotton adds warmth in cold weather and also feels cooler than synthetic fabrics in warm environments
As a natural fabric, Cotton is able to attract moisture and transmit is away from the body, keeping the wearer dry
Cotton offers good wear and performance
Lightweight Cotton, 195gsm are best suited for hydro-blasting, fitting, painting or general tasks
Heavyweight Cotton, 260gsm performs well for blasting, welding, fabrication where durable is a necessity