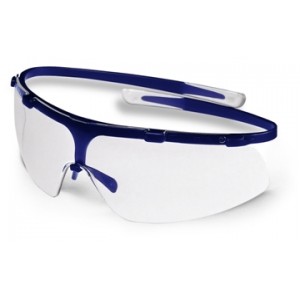 BRAND: UVEX
MODEL NO: 9172.265
This exciting eyewear concept unites innovative technologies and high-tech materials.
The lens
Using state-of-the-art manufacturing processes, an extremely thin lens with exceptional optical clarity can be created. The lenses have ideal aerodynamics and are angled forwards to provide excellent ventilation, keeping the eyes comfortable.
The frame
The frame is made of ultra light, high-tech polymers, guaranteeing maximum flexibility. The innovative side piece concept features uvex x-stream-technology for an excellent, non-slip fit and a wide range of applications.
The result
The super g is completely metal-free and provides top-level protection – and all that at only 18 g!